5 Tips for Helping Your Speaker Shine

Speakers provide tremendous value to your event. How much? According to one study, 87% of companies experienced an ROI from equal, to up to 5x, the cost of hiring the speaker. But in the busy months ahead of the event, it's easy to overlook your speakers. And while company leaders might be exceptional in their day jobs, most of them could still benefit from some tips and coaching.
What makes a good keynote presentation? In this blog post, we'll cover five keynote speaker tips that will help you truly make your speaker shine.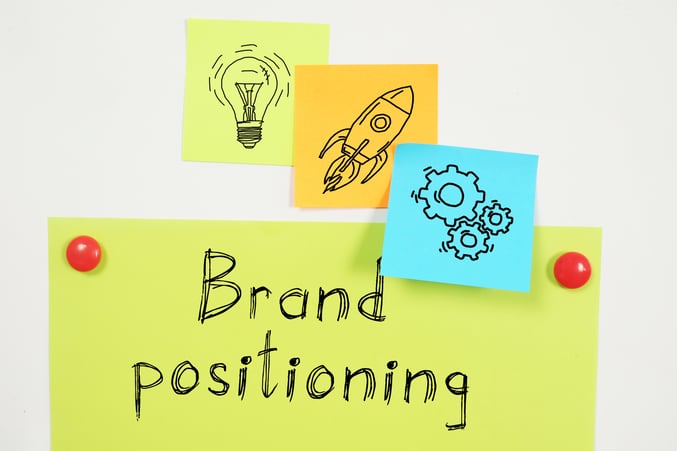 1. Brand Your Slides and Presentation
Your event is special and important—and your creative collateral should reflect this. Instead of defaulting to your corporate PowerPoint template, build an event-specific brand that extends to presentations. Branding your slides will ensure your event presentation feels both targeted and sophisticated. And make sure that the template is distributed to speakers at least three months ahead of the event; a mishmash of slides, from speaker to speaker, can make an event feel disjointed—or even amateur.
As for the slides themselves, keep the designs simple and bold. "The key is to focus on one main takeaway per slide," says Jason Courtemanche, art director at Stagedge. "People tend to have too much content. Be choosy about what you say."
Always remember that the slides are there to support the speaker. If the audience is scanning text or trying to decipher a complex chart or table, they're not listening. If there are too many slides like this, you risk losing them altogether. Request that speakers send you their slides ahead of time so your team can proofread, reduce the amount of copy (if needed), and ensure they are branded appropriately.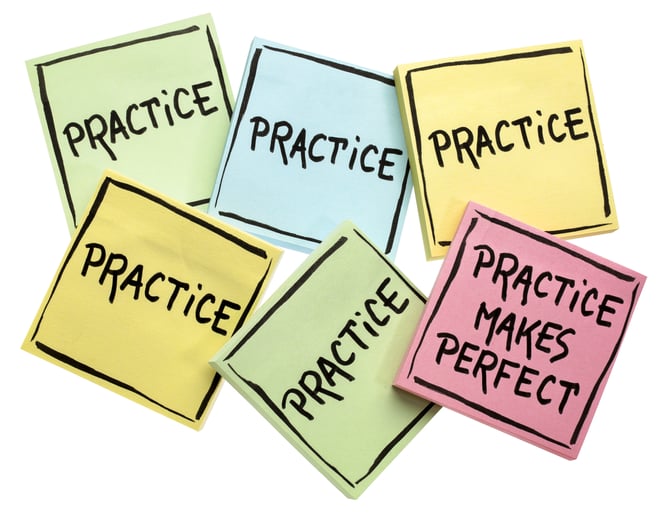 2. Practice Makes Perfect
"Even top executives are set up for failure if they have not made time to rehearse," notes Jon Martel, Stagedge's senior marketing manager. For this reason, public speaking coaching should also start at least three months ahead of the event. Schedule the time on your speaker's calendar and make sure they stick to it.
"Even top executives are set up for failure if they have not made time to rehearse."
Start by having the speaker read their presentation and approve the overall content. From there, they can rehearse on their own, then in front of a few people. The next step is to video the presentation so that the speaker can watch it and critique themselves. This includes practicing gestures and movements and reviewing slides and script to ensure they know their content backward and forwards. Simply put, the less time the speaker needs to look down at the monitor means more time to engage the audience.
As with the slides, so with the speech: keep it simple. A winning presentation should be anchored with a solid opening and closing. In between, there should be three key takeaways the speaker wants to leave the audience with. The last thing any speaker wants is to leave the audience either wondering what the presentation was about or bogged down with an excess of information.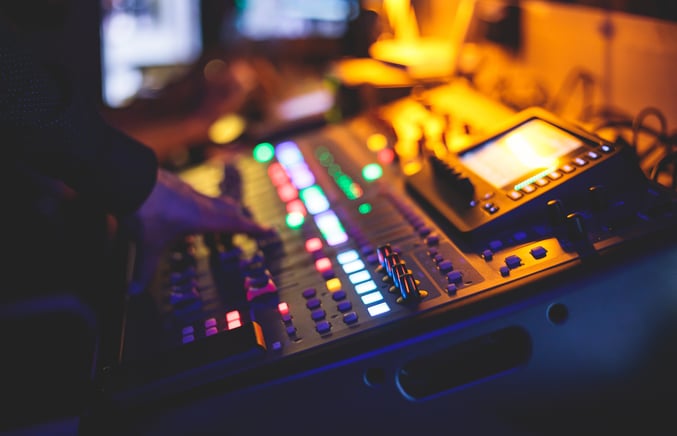 3. Loop in the Tech Team
Behind every great keynote speaker is an invisible team of technicians, working the lights, music, microphones, cameras, and other technology. As the saying goes: when things go right, you don't notice them, but then they go wrong, everyone does.
To avoid mishaps, ensure the tech crew receives the script and presentation at least a week before the event so they can create what is known as a "run-of-show" document. This document will contain everything necessary for the crew to stage its own cue-to-cue rehearsal, including what actions to take when the speaker walks on stage (music, narration, introduction), camera work, and preparing and cueing any video clips used during the presentation.
"To avoid mishaps, ensure the tech crew receives the script and presentation at least a week before the event so they can create what is known as a "run-of-show" document."
While the technicians will do their best to make the speaker shine, there is one factor they cannot control: voice modulation. It is important for speakers to project their voice, even when wearing a microphone. "If you're speaking loud and clear, the audio engineer can adjust the levels if needed," points out senior producer Joey Toppan. "But if you're speaking too softly, there's only so much they can do."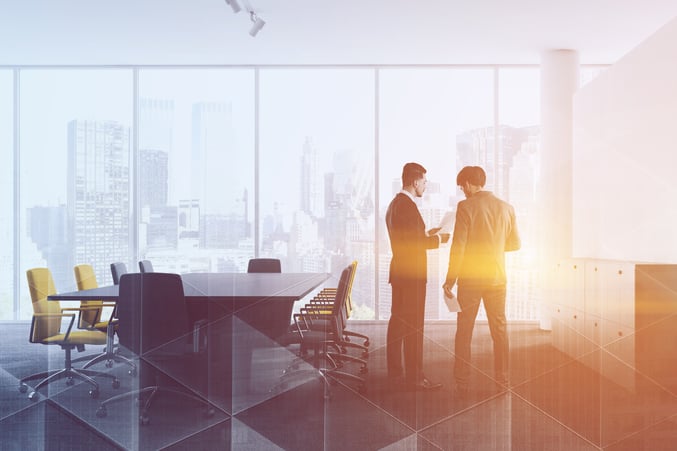 4. Leverage the Speaker Ready Room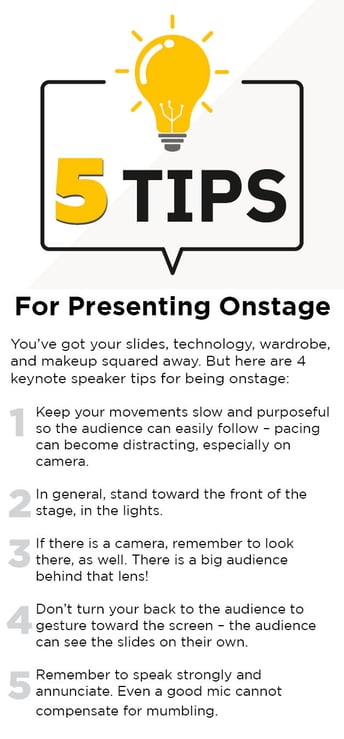 A speaker ready room is a private space where speakers can prepare and rehearse. This room offers a golden opportunity that is often underutilized—it can, and should, be leveraged ahead of time to help your speaker get everything ready before they rehearse onstage. Here's why: last-minute changes tend to take longer than anticipated, and making tweaks on stage holds up the entire dress rehearsal. Both team morale and budget take a hit as you pay for technicians to stand around while your speaker painfully changes some slides. Leveraging the speaker ready room ahead of time, however, allows the speaker and an assistant to adjust slides, scripts, and cues in a relaxed setting—before going out to rehearse.
For a 30-minute talk, we recommend booking a two-hour session in the ready room. You will find this to be time well spent. In addition to saving time and money, it focuses time onstage, making dress rehearsals both more impactful and cost-effective.
5. Don't Forget Makeup and Clothing!
Part of helping your speaker shine is making sure they look their very best. Having branded your event, you want to ensure your speakers are on-brand, as well.
If you offer outfit and wardrobe consulting, recommend that your speaker avoid busy patterns such as plaids and checks. The camera has trouble picking up such patterns, and they can even look like they're "moving" on the screen. Solid colors look better on camera—with an emphasis on "color," as white shirts or outfits can wash out certain skin tones or appear too bright (even blinding) under the lights.
Speaker microphones can also be a tricky issue. Avoid chunky necklaces and scarves that can interrupt them, as well as sheer fabrics, which, in addition to being hard to attach mics to, can also become see-through under strong lights. If your speaker is wearing a dress, consider adding a belt to clip the microphone pack onto.
"Adding hair and makeup as an obligatory step in the process will help speakers feel confident and will ensure that all speakers in a panel are on-brand."
Hiring a hair and makeup specialist should be a no-brainer. Without a little powder, the bright lights of the event venue will not be flattering—for any speaker. Adding hair and makeup as an obligatory step in the process will help speakers feel confident and ensure that all speakers in a panel are positively representing your brand.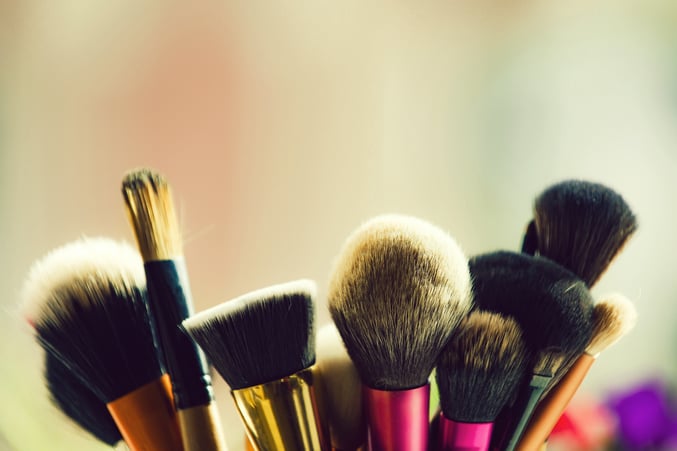 With so many details to handle in the run-up to your event, it's tempting to leave speakers to their own devices. But that's a mistake that can hurt ROI for your whole event. Investing time to help your speakers perform at their very best is a triple win: your audience feels inspired, your speaker feels successful and gratified, and you've provided value to your attendees—boosting your brand and ensuring they want to return next year.
At Stagedge, helping speakers shine is only one of the innovations that sets us apart. For more tips on taking your event to the next level, read our free e-book, Working Backward To "Wow": 4 Innovations To Help You Create a Great Event Experience.