Does your CEO need a green room? What the heck is a "run of show?"
As you plan your corporate event, it's easy to be confused by event-planning terms— and we're here to help. Today's blog will focus on all the terms you need to know for equipment and onsite jargon. Follow along to learn the A to Z of onsite event planning.
Event Planning: Equipment and Onsite Terms
Backline: A backline refers to the musical equipment used by a band that is in the "back," or behind them. This can include everything from amps, speakers, and stands to keyboards, drums, and percussion.
COI: Short for "certificate of insurance," a COI is proof that you carry business insurance. An essential requirement both for potential partners and customers, a COI signals that it is safe to do business with an organization.

CYC: A CYC, or "cyclorama," is a curved curtain or wall used as a backdrop in everything from theater to broadcast media. Often made of canvas, muslin, or scrim, a CYC is curved to give the illusion of unlimited and infinite space, with no hard-edge boundaries.

DSM: Similar to a teleprompter, a DSM, or "down-stage monitor," displays electronic text, cues, or slides for a presenter—but it is located on the ground or the stage. Note that both teleprompters and DSMs can offer scrolling scripts (like a newscaster), or notes in the form of static bullets.

FOH/BOH: Used in restaurants and event venues, FOH, or "front of house," refers to the area the public or clients will see, such as dining or audience areas. In contrast, BOH of "back of house" refers to that part of a restaurant or venue (such as the kitchen or backstage area) that the public does not see.

GOBO: Short for "go-between optics," a GOBO is a disc or other object placed in front of a light source to project an image or pattern, such as a logo or word. Typically made of steel or glass, plastic GOBOs now exist for LED fixtures.

Green Room: A term borrowed from the theatre world, the green room is the space in a venue that functions as a changing area, HMU area (see below), waiting room, and lounge for performers at any point when they are not on the stage (note: the room does not necessarily have to be green!).

Ground-supported: This refers to equipment that is based on the ground and thus, does not need to be hung. In general, ground-supported equipment is easier to install and manage.

HMU: Short for "hair and makeup," HMU is an easily overlooked detail that can make the difference between a star performance and a sloppy one.

IMAG: Short for "image magnification," IMAG refers to the large-scale video projection of presenters, performers, and content at events. This enables the audience to capture details that, due to distance, they otherwise would not be able to see.
"As you plan your next corporate event, it's easy to be confused by event-planning terms-and our glossary series is here to help."
LED Panels: LED panels are composed of light-emitting diodes, or "LEDs" that can be assembled into walls and used in entrances, as stage backdrops, or exhibition spaces to display rich content.

Plot Plan: A plot plan is a bird's-eye view of a venue, showing all of its structures, features, and facilities. This is fundamental for ensuring that your run of show (see below) will operate properly.

Presidential Teleprompter: Whereas a standard teleprompter (see below) is located in front of (or below) a video camera, a "presidential" teleprompter consists of square glass on tall stands placed next to the lectern. This is convenient if a presenter will be staying at the lectern rather than moving around.

Rider: A rider is an addition to a contract detailing certain terms and conditions. For events, the rider comprises the specific terms agreed upon by the talent to perform at the venue. These usually cover hospitality, security, and technical needs, and may also extend to areas such as transportation, comp passes, interviews, and broadcast rights.

Rigging points: The places, or "points" on the ceiling where equipment is hung or fixed. These points must be adjusted and maintained to comply with safety specifications and are usually detailed in what is known as a "rigging plot."

Run of Show: The run of show is the step-by-step sequence of how an event will take place, including timings, who will be responsible for each part, and any technical direction. Also known as a "rundown" or "show flow," these plans are essential for keeping events running smoothly.

Scenic Panels: Like LED panels, scenic panels offer another spectacular way to create a backdrop. These modular, or moveable, panels provide surfaces for projection and can be combined with lighting or other effects.

Speaker Ready Room: Room containing a mini set-up of the actual performance area. Contains equipment such as DSM (see above), microphones, and prompters for the speaker to rehearse in the final moments before going onto the actual stage.

Teleprompter: Also known as an "autocue," a teleprompter is a device that displays electronic visual text for a presenter. As the presenter can look straight into a camera lens or at the public, a teleprompter gives the impression that they are either speaking spontaneously or have memorized their speech.
Upstage/Downstage: In stage direction, upstage is towards the back or curtain, and downstage is toward the audience. These terms can be combined with "stage left," which is to the left of the performer, or "stage right," to the performer's right.

VOG: The VOG, or "voice of God," is the invisible, off-stage voice used to introduce presenters or make announcements.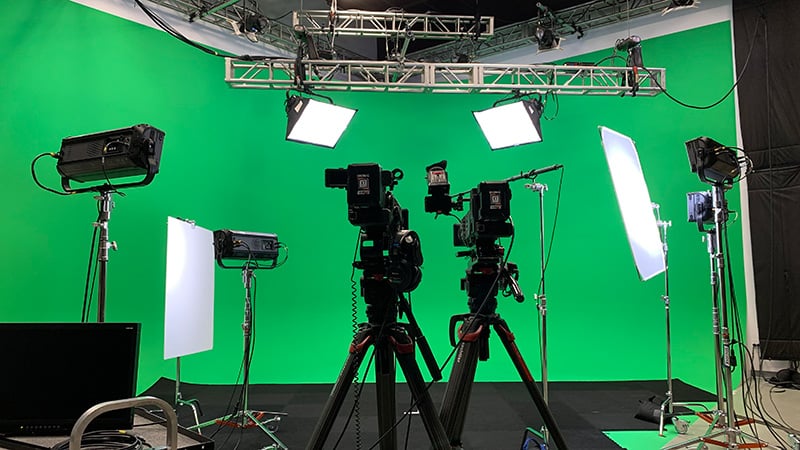 Event Planning, Simplified
Choosing technology, scheduling and preparing performers, setting up the stage and venue, filming, and live streaming: there are a lot of moving parts to a successful event. By understanding the highly technical jargon, one piece of event planning is made a bit easier.
"Choosing technology, scheduling and preparing performers, setting up the stage, venue filming and live streaming means there are a lot of moving parts to make your event successful."
How else can we simplify your process? With more than 40 years in the industry, Stagedge's team of experts takes the pressure off, streamlining every step of the event process, from planning to execution. Check out our service offerings for more information.