Keep Your Audience Coming Back for More
Captivate your audience with an experience they will never forget. Stagedge creates memorable moments through in-person, hybrid, and virtual events, generating excitement across all platforms.
We thrive on helping our clients tell their stories, delivering customized experiences which exceed expectations and ultimately leaving audiences wanting more.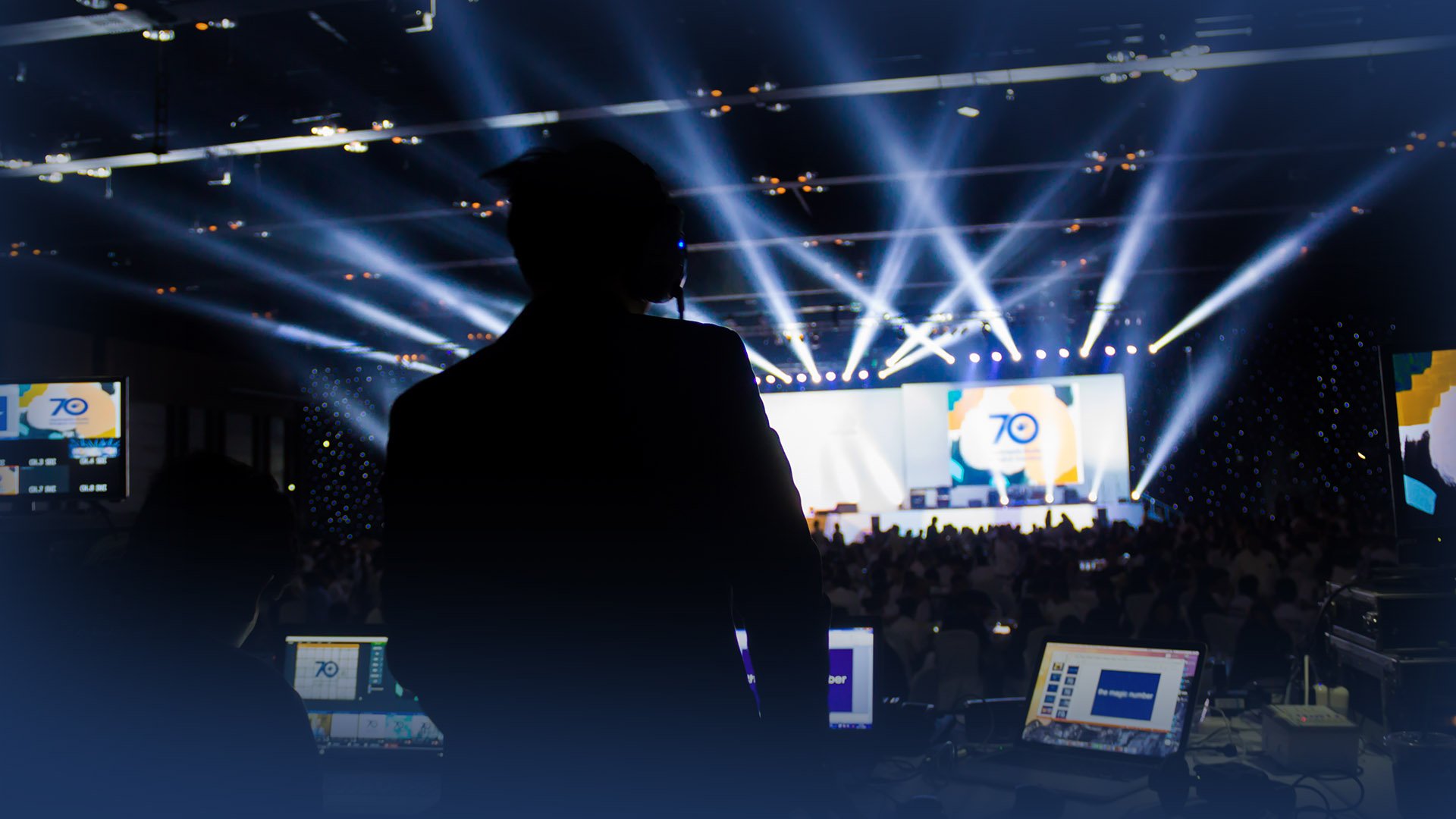 Helping you stand out is what we're all about. We provide end-to-end creative and technical services to bring your vision to life and employ solutions to maximize in-person and digital reach. After taking the time to understand what makes our clients unique, we creatively tailor every event to assure interest and information retention. Showcasing your brand, services, products, corporate happenings, research, employee accomplishments, and other important initiatives in innovative ways will directly impact how your message is received
How'd They Do That?
A Customized Solution for Any Audience
Got a Unique Event? We Can Do That - Any Event, Anytime, Anywhere

In-person Events
We've been producing events for over 45 years, and we understand the value of in-person experiences, networking, and interpersonal interaction. There is an energy associated with in-person events which attendees crave—and that comes from creating the right atmosphere. Harnessing ingenuity and the latest technologies, we transform venues to make themes, content, and presentations come to life.
Managing all aspects of content creation, environmental design, show production, entertainment, and event needs, we work with clients from every industry to customize in-person events of all sizes.


Virtual Events and Branded Broadcasts
We view our virtual events as branded broadcasts, similar to what you experience on TV. Virtual events offer significant opportunities for audience engagement through online and digital experiences—but only if done right.
With the same level of production quality as broadcast television, our virtual events showcase your brand and captivate online attendees through intriguing presentations, graphics, content, and visual elements. Every virtual environment and platform is customized and unique to your event, whether on-demand, live, or live with multi-channel.


Hybrid Events: Breaking Participation Boundaries
Virtual accessibility is a must-have for all events, and going hybrid is the answer. Hybrid events provide versatility and integrate both in-person or studio components with virtual and remote elements, catering to all audiences and attendees. The end result? Presenters can deliver their messages to more people than ever before, and well outside of any geographic boundaries.


Technical Expertise Results in a Flawless Event
Our technical and engineering teams have decades of experience in live event production, broadcast television, live streaming, platform development, and content management. From concept to completion, our teams align with you every step of the way, and we employ thorough redundancies to ensure a top-of-line production experience.


We Handle Events of All Kinds
What kind of event are you planning? We have experience with a wide spectrum of events across all industry sectors, including: Annual Financial and Investor Meetings, Team Meetings, Sales Meetings, Product Launches, Fundraisers for Non-profits, Employee Awards, Graduations, Product and Service Announcements, Education and Research, Entertainment, Healthcare, Government, Sports, and Retail.
What our clients are saying
"Returning to an in-person meeting was a massive undertaking, and we so greatly appreciate your expertise, efficiency, and flexibility in making the event a success. As always, thank you for your partnership!"
VP Brand Management
Financial Services
"Just wanted to reach out to say thank you to the entire team. By all accounts this was a homerun! We look forward to working with Stagedge going forward."
Senior Multimedia Producer
Global Insurance Company
"Working with Stagedge was the best event decision we could have made, and I'm so proud of the final product we put together for our customers & prospects."
Director of Demand Generation
B2B Tech Company
"You all blow me away with your capabilities! Absolutely incredible! Thanks for all you do."
Jason Durfey, Associate Director, Marketing Communications
BioFire Diagnostics, LLC
"The team and I connected immediately after the event and shared how much we appreciated the support and attention each member of the Stagedge team provided. This was the best decision to change our technology platform and partner with you and your team. I couldn't have asked for better support pre/during/post event."
Experiential Marketing Manager
Healthcare Company
"THANK YOU, THANK YOU, THANK YOU!!! You were the best team we could have imagined and we are so grateful!!!"
President
Non-Profit Organization
Stagedge event production
In-person Event
Virtual Event Production (In-studio or On-location)
Hybrid Event Production (In-studio or On-location)
Environmental, Experiential, Staging, and Creative Design
Content and Presentation Creation
Video Production and Event Coverage
Animation and Design
Content Management
Customized Virtual Venues, Websites, and Platform Creation

Hybrid

and Platform Interactivity
Branded Communication
Dedicated Team for Each Event
Branding and Design Integration
Interactive Platform Features
Remote Presenter Integration
Talent, Entertainment, and Keynote Speaker Sourcing
Augmented Reality (AR), Virtual Reality (VR), Extended Reality (XR)
Video On Demand (VOD)
Breakout Sessions and Forums
Interactive Chats