5 Best Practices for Hybrid Event Production
In a 2022 survey, researchers found that 70% of all events can be considered hybrid. That means if you've hosted a corporate event at any time over the last few years, you've probably already done "hybrid"—whether you called it that or not. But the term is confusing, and it can be hard to know if you're doing it right. In this post, we're covering all things hybrid. You'll learn what "hybrid event" really means, why it's critical in today's environment and five best practices for doing it right.
Hybrid Events: Reaching Attendees Whenever, Wherever
A "hybrid event" is defined as any event that contains both in-person and online components—a term that casts a pretty wide net. The online piece could be as complex as live-streaming event sessions, or as simple as making videos available on-demand.
No matter how you and your team "go hybrid," adding the virtual component offers the ability to expand your audience, an opportunity that is far too valuable to ignore. Consider that 83% of those who attended the online portion of an event were never planning to attend in-person. Engaging these participants virtually can lead to a growing relationship with someone who otherwise would not have attended. Even better? People participating in an online conference are likelier to attend in-person the following year.
While adding an online component to your in-person event can sound daunting, the upside is clear. Here are five best practices for approaching hybrid event planning that will increase engagement and ROI for both your in-person and virtual event experiences:
1.) Streamline Your Vendors
Going hybrid means essentially planning two separate events: online and virtual. Managing multiple vendors across two events, with event strategy and direction, design, and branding, online and in-person registration, videography, and day-of execution is difficult and time-consuming. Unless all vendors are in lockstep, the end result could be a chaotic or inconsistent event experience for attendees. Instead, make it easy on yourself and your event marketing team by finding a production partner who fully understands hybrid event production and can run both the virtual and in-person parts of your event. And if you do find that multiple vendors are necessary, establish a "chain of command" between vendors so that communication to stakeholders is streamlined and details don't fall through the cracks.
"To host a successful hybrid event, it's essential to choose the right vendor and make sure you have plenty of time to prepare. Hybrid adds an element of complexity, so streamlining your vendors and considering the additional time needed for technical approvals is critical."
2.) Give Yourself Plenty of Time to Prepare
With no venue, dining, or travel to prepare for, the virtual component of your event may seem more straightforward. Since you're planning two separate events, however, it's important to begin planning well in advance. Consider that teams will need time to develop your event website with branding and design consistent with the in-person experience, and practice with technology to make sure videos are accessible and the user experience is seamless. For these reasons, the best production teams and technology for hybrid events are often booked 12 months ahead.
"Hybrid events allow you to reach attendees who otherwise wouldn't be able to attend your event-including international folks, or people unable or unwilling to travel."
→ Keep an Eye on Security Processes Many companies have implemented lengthy reviews of SaaS applications—like hybrid event software—and have strict procedures for collecting personal identifying information, such as online attendee registration data. With advance planning, event marketing teams can avoid being at the mercy of their IT team and skip the anxiety of waiting for a technology review as the event day rapidly approaches.←
3.) Create Audience Journeys for Both In-Person and Online Attendees
Attending an event online feels very different from attending an event in-person. Think about how you feel watching your favorite TV show from the couch, versus attending a live theatre production. Since the two experiences are received in very unique ways, it makes sense that the audience journeys also must be treated and produced differently.
Your event production team should help you strategize ways to reach through the camera to engage audiences at home. For instance, since online attendees won't have the impactful "walk-in" experience you've planned for those in-person, you can send them a welcome video to draw them into the spirit of the event, or even a SWAG bag of goodies. And while virtual folks won't be able to network in the hallways during breaks, they can take the time to consume "extra" material—like a video or a podcast—in their own time, while stretching their legs.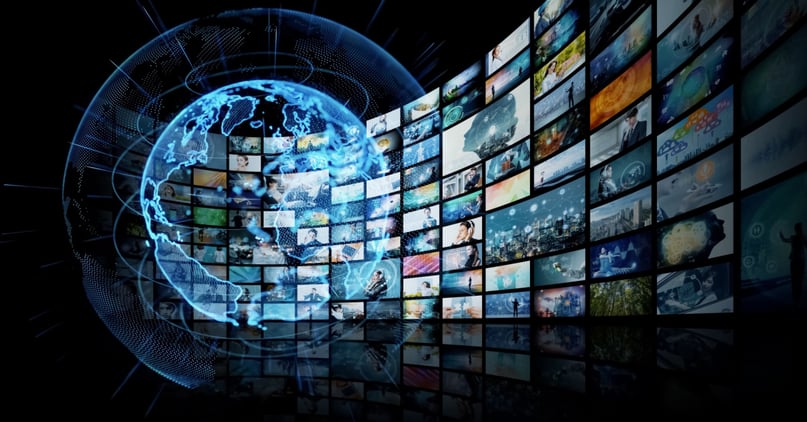 4.) Design Stages and Sets for Two Audience Types
Similar to creating two separate audience journeys, the best hybrid productions will also think about design elements for your different audiences. Consider how game shows or live TV productions, like Saturday Night Live, are produced. These TV shows provide equally powerful viewing experiences for viewers, both on- and off-set.
Your hybrid event management needs to operate the same way. The event production team must design the set with the folks at home in mind, with scenic elements that are both awe-inspiring in person and pop on the small screen. And, of course, your talent— in many cases, your top executives—need to be at their very best both onstage and online. With ample rehearsals, expert coaching, and support from onsite videographers, your speakers will feel empowered to engage the audience no matter what the medium.
5.) Give the Folks at Home a Break
How many of us have stood up from a long day at work and realized our eyes are tired and our backs are sore from hunching over a computer for hours? When designing the run-of-show, build in breaks throughout the day, give your online audience something interesting to look at during downtime, and consider shortening your event day to prevent online fatigue.
Last but not least, keep in mind that "hybrid" doesn't have to be live! In fact, 75% of event attendees find on-demand viewing valuable. Making on-demand event content available allows online audiences to watch event content when they have the capacity to learn new information and the ability to focus. It's also a great way to allow international attendees in different time zones to participate in your event.
Hybrid Expands the Boundaries of Your Event
While going hybrid requires additional investment—including budget and time—to be effective, it's worth it. Adding the virtual component vastly expands the dimensions of your event, allowing you to attract a wider audience and give your event a longer life.
"Hybrid makes your event "boundless." Through an online platform, you can reach attendees anywhere and engage your audience pre- and post-event."
By developing an online component, you've also created a medium for reaching attendees outside the boundaries of the event itself. Before the main event day, consider sending out a sizzle reel or asking attendees to submit questions they have for speakers. After the closing session, use your platform to survey attendees, send out videos and photos, and keep in touch until next year. In some ways, a hybrid event never has to end. The discourse can continue to evolve and build with relevant content and messaging, pulling new attendees into your event and into your brand's orbit.
We're excited by the infinite possibilities presented by hybrid events. Check out our hybrid events playbook to learn more about Stagedge's approach.