If you've ever conducted an online poll during an event, or used an app to share event news and help attendees connect, then you're already familiar with the concept of the "second-screen experience."
In the events-marketing world, a "second-screen experience" refers to the practice of interacting with audience members via their personal devices (the "second screen"). Through polls, surveys, and chat applications on their second screen, the attendee moves from passive listener to active participant.
"When adding a second-screen experience, don't layer more content onto what your speaker is already presenting. Aim to entertain and spark engagment."
While second-screen tech has been around for a while, it remains underutilized in event planning—and that's a mistake. Not only is the second screen a powerful way to connect with your audience, but it also keeps participants involved and collects valuable feedback. Let's face it: people are already on their phones all the time––this simply allows you to leverage that reality in a constructive way.
Here are seven tips for maximizing the second-screen experience at your next event.
1.) Engage Your Audience Right Away
Find an early opportunity to "train" your audience to use this new type of mobile engagement. Introduce a poll or survey question at the outset of your event—this early experience will prepare participants to continue to use their second screens as the conference progresses.
2.) Use Light, Entertaining Content
The point of the second-screen experience is to entertain and engage—not to add more heavy content to what your speaker is already presenting. Whether an audience member is sitting in row one or row 50, an interesting question or survey will spark engagement. Better still, share the results in real-time on the primary screen—and then discuss those results. Not only is an interactive element a surefire method for making your audience feel personally invested, but it also helps break up a longer presentation. Remember: after 10 minutes, your audience's attention begins to wane. Instead of losing them, listen to them.
3.) Have a Writer Script Your Poll Questions
Not all of us were born to write for Saturday Night Live—and that's okay. Keep the content light and lively by having a professional writer wordsmith your poll questions. If the questions are engaging, it will spur audience members to be relaxed and funny themselves. If the questions are dull, you risk undermining the whole idea of event engagement and prompting your audience to keep their phones in their pockets.
4.) Coach Your Speaker on How to Improvise
Speakers are often reticent to include second-screen experiences in their presentations because it requires them to go off-script as they discuss the results. We understand—ad-libbing can be daunting. The best way to deal with uncertainty? Help your speaker by rehearsing how to introduce a poll and what to highlight when the results are revealed. You can even roleplay the moment by having event staff submit answers during the rehearsal to get your speaker comfortable with both the process and the technology.
"Don't reinvent the wheel. Many audience engagement tools are already on the market to optimize your experience."
5.) Use Existing Second-Screen Solutions
Don't reinvent the wheel. Several tried-and-true audience engagement tools are already on the market to optimize your experience. Here are a few to consider:
Pigeonhole provides everything from polls and surveys to quizzes and Q&A and can also integrate with platforms such as Zoom, Teams, and Swoogo (our personal favorite!).


SpotMe allows event organizers to create customized event sites, branded event apps, social feeds, 1:1 networking, reactions, and more.

Slido is an intuitive option for events of all sizes, with over a million customers worldwide.

6.) Generate Analytics and Feedback
There's more to the second-screen experience than just polls. In addition to some of the options mentioned above–quizzes, chat, notes, and more–it's also a great way to gather data and audience feedback. Second-screen technology helps you understand which audience questions were the most common, which slides were most popular, and how many people engaged with polls. Post-event, you can export poll results for further analysis. All the information collected helps you learn and improve your future events.
"With these kinds of event technology solutions, you can connect with people attending both in-person and virtually."
7.) Engage People Attending Virtually
Second-screen tech also helps you connect with people who aren't physically at the event—all they need to do is log on. This helps the interactivity of your event extend to those in remote locations. Likewise, audience members near and far can use your event hashtag to promote the event on social media. Apps like Walls aggregate social content across platforms to create dynamic content walls that can be cast onto the primary screen—allowing your audience to see their name (or at least their social media handle) in lights.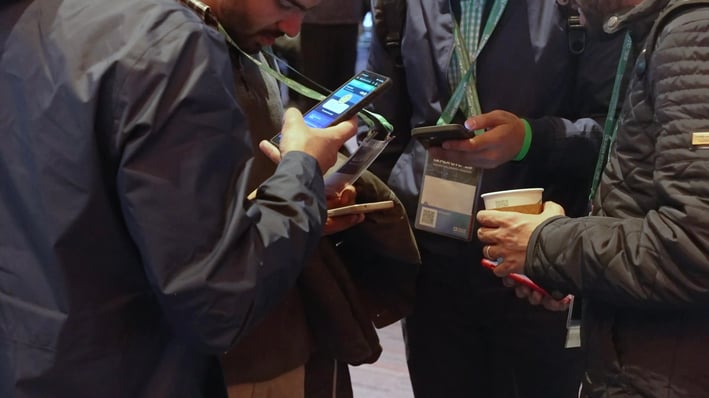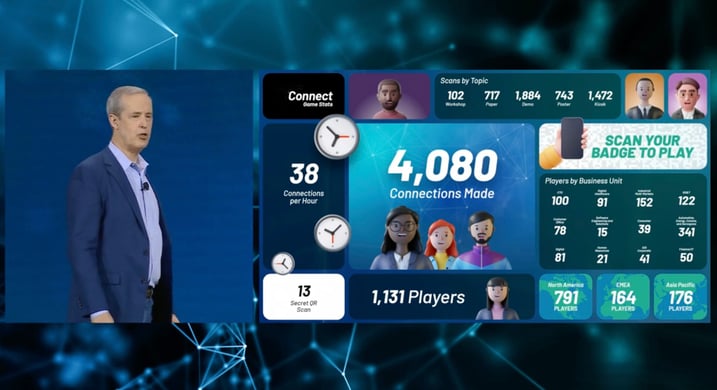 From Second Screen to Second Nature
Like anything new, adding the second-screen experience can feel intimidating at first. But with a little rehearsing, incorporating it into your events will become second nature. And with the added audience interaction, your events will become livelier and more informative—for organizers and attendees alike.
At Stagedge, we have more than 40 years of experience in engaging audiences with the latest tech and practices. Want to learn more? Check out our recent blog on how we're using immersive technologies to up the "wow" factor at upcoming events.