How to Understand and Reduce Your CO2 Emissions
"As addressing climate change becomes a top priority for executives, event organizers feel more pressure than ever to reduce their carbon budget."
Addressing climate change has become a top priority for organizations globally. In a recent survey, 61% of CXOs reported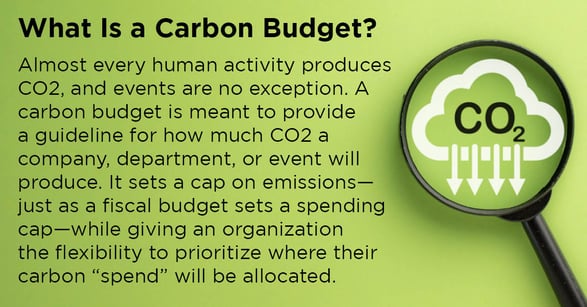 that climate change will have a "high/very high impact on their organization's strategy and operations over the next three years." As a result, marketing executives, managers, and event organizers are feeling more pressure than ever to reduce their carbon footprint.
Did you know that an average conference (three days, 800 attendees) will produce more carbon dioxide than 95 cars will emit in one year? The bad news is that events can put a serious dent in a carbon budget. The good news is that there are clear and concise strategies your team can utilize to lower an event's expected CO2 emissions. Attendees will be eager to hear about your green initiatives. In this blog, we'll outline the important steps to reducing your event's carbon cost.
1.) Consolidate Events for Extra Impact
With air travel alone comprising up to 87% of total carbon emissions, the number one contributor to your event's carbon footprint is most likely transportation.
That means the simplest way to reduce carbon emissions generated by events is to reduce the number of times that attendees travel. If your organization has multiple conferences attended by the same set of people, consider consolidating those events into a single, spectacular event. Your carbon budget and your fiscal budget will go much further, and you won't have to compromise on the attendee experience.
"The number one contributor to an event's carbon footprint is attendee travel. Reduce the number of people flying or driving to your events by consolidating events with overlapping audiences or creating a hybrid event experience."
2.) Go Hybrid and Grow Your Audience Without Increasing Emissions
Another easy way to reduce attendee travel is to ensure that your event has a virtual component, allowing attendees to participate from anywhere. Post-pandemic, most attendees expect events to be hybrid, and this offers an opportunity for event organizers to create dynamic, thoughtful online experiences for attendees globally. You'll reduce the number of attendees in the air and on the road, and as a bonus, your event will be accessible to those unable to travel due to family obligations or mobility limitations. Going hybrid allows your event to transcend barriers to access while creating a broader audience for your content. A true win-win!
3.) Pick a Destination That Has Carbon Reduction "Baked In"
Beyond air travel, the destination you choose will also impact your carbon budget, with some cities making it easier to lower the environmental impact of event attendance. Look for a destination with excellent fossil-free public transportation, for example, and a centrally located venue. Consider the season as well. A temperate climate means you can spend less on heating or cooling event space, host some activities outdoors, and motivate attendees to walk to local destinations (rather than using transportation).
4.) Vet Partners and Vendors with an Eye Toward Sustainability
When it comes to sustainability, not all vendors are created equal. As your team vets event vendors—from production companies to swag providers—ask them questions about their own carbon budget and reporting. Check if they've been rated by industry-leading sustainability assessors. They can better support carbon-reducing initiatives at your event if they've prioritized sustainability within their organization.
"Vet event partners and vendors by asking about their own sustainability strategy. If they're prioritizing carbon reduction, they'll be able to support your organization's efforts to lower its carbon impact."
5.) Estimate Your CO2 Contribution as You Plan
There are many tools available to help your team understand its carbon footprint. Here are a few free resources that anyone can use:
Myclimate offers a free calculator that estimates the total carbon impact of an event and suggests ways to make an equitable climate protection contribution.
International Air Transport Association (AITA) has a free calculator that business travelers can use to calculate the carbon footprint of their flights.
This Princeton University calculator helps you understand the carbon cost of food and beverage planning, and offers suggestions for creating a sustainable menu.
By measuring your events' CO2, you can ensure you're not going "over budget" or—if you are—find ways to offset your impact.
Balancing the Carbon Budget Together
Calculating the environmental impact of corporate events is a new frontier for most of us—which makes it tricky to balance a carbon budget. After all, how can you limit your carbon "spending" if you don't fully understand your costs? While creating a carbon strategy for your event won't happen overnight, building a "climate-conscious" culture into your event planning—including vendor selection—is the clear first step.
Stagedge is excited to help our clients understand and offset their CO2 emissions. We were awarded the Bronze sustainability rating by EcoVadis, a trusted provider of sustainability assessments, to recognize our effort to offer green event solutions. Learn more about Stagedge's tips for creating eco-friendly events on our related blog.