Today, "sustainability" has become more than just a buzzword in corporate America, with companies demonstrating their commitment to the environment throughout all layers of their business. Consider that the percentage of companies with Chief Sustainability Officers (CSOs) more than tripled in only two years, from 9% in 2019 to 28% in 2021, while 96% of the world's top 250 companies now regularly report on their organization's sustainability.
With sustainability becoming a key corporate priority, companies are looking for ways to "green" all aspects of doing business—including events and conferences. In celebration of Earth Day, we're offering four easy methods for sustainable event planning that will help you showcase your organization's commitment to the environment.
1. Location, Location, Location
When it comes to sustainability, the first choice you make when planning the event is the most impactful: where to host it. Did you know that flights account for a whopping 90% of business travel emissions? When choosing your location, consider which city will be most central for your team and attendees so that fewer—or shorter—flights are needed. Is public transportation available in the city? If so, incentivize attendees to use the train or organize a shuttle to ferry multiple people back to the conference hotel.
After you've chosen the city, it's time to pick a venue. Before booking a conference center or meeting space, you can ask questions about their sustainability practices—particularly how they conserve energy while keeping guests comfortable. Additionally, event planners should book only the amount of space needed, so that cooling and heating resources are not wasted on empty rooms. By keeping travel logistics and energy usage in mind as part of your calculus as you pick your spot, you can be sure you've built your event on an eco-friendly foundation.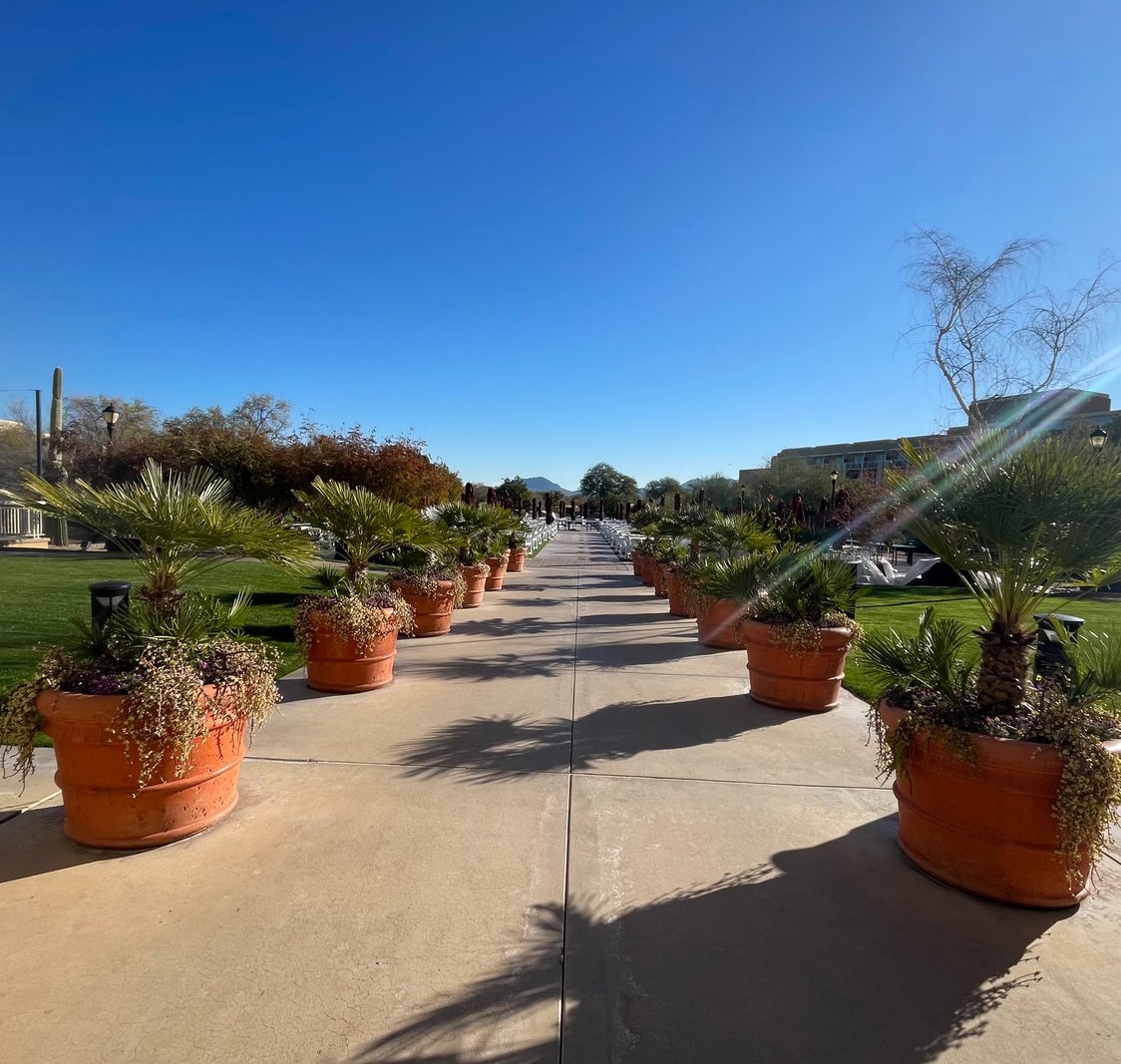 2. Think Digital
Events are an incredible opportunity to motivate and inspire attendees with unique content, beautiful stages, and fun experiences. And thanks to recent innovations in event production, your event's scenic centerpieces—sets, photo walls, and backdrops—no longer have to be built as single-use structures. Along with being more environmentally friendly, choosing "digital scenic" instead of "hard scenic" provides creative benefits, letting your team be more creative as they seamlessly blend videos and visuals into your center-stage story. The result? A more cohesive look for your event space that is also much better for the environment.
Similarly, you can choose to go digital-first with all of your event content. Rather than passing out single-use programs and flyers, use an event app and QR codes to point attendees to the content you want to showcase. In addition to minimizing paper waste, digitizing event content allows you to follow up with attendees who download content and offer quick surveys to gauge the event's efficacy. Digitizing content allows your work to continue to live on after the conference has closed rather than ending up left in a hotel room—a win for both the environment and your brand.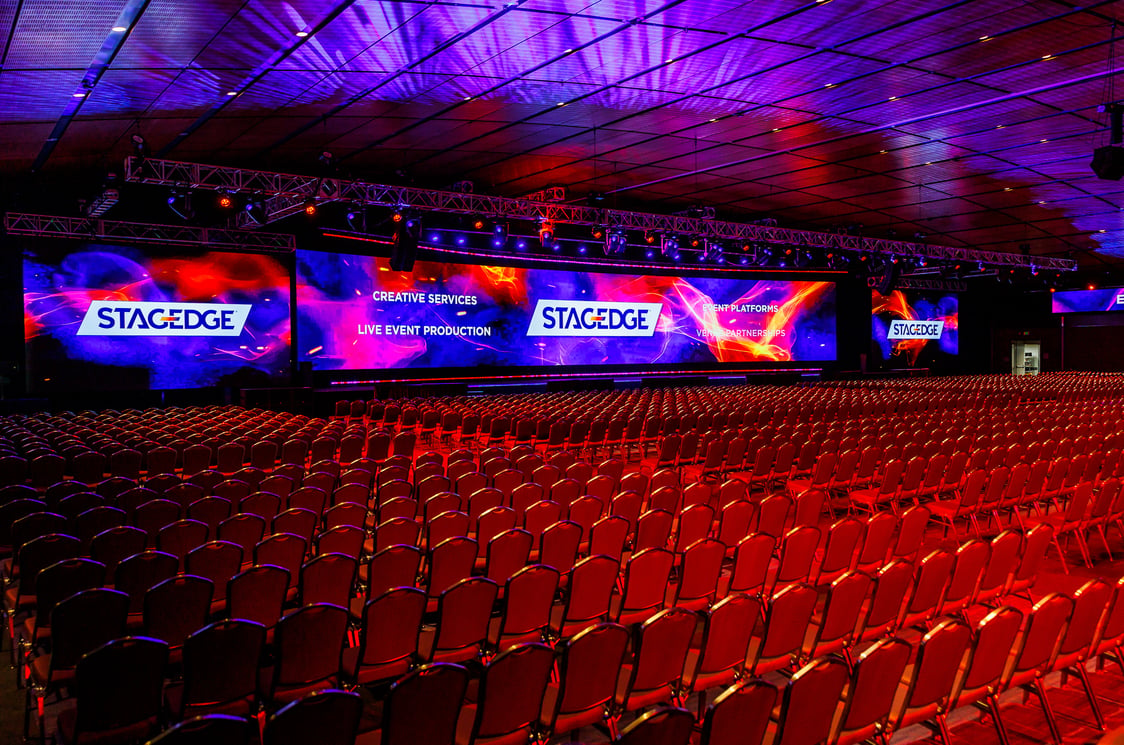 3. Mind the Menu
According to the Professional Convention Management Association, the meetings industry spends about $48 billion on food, and 30-40%—about 63 million tons—goes to waste. Food waste can occur at the "back of the house" when too much food is ordered or made ahead of time, or at the "front of the house" when attendees do not eat everything on their plates. Fortunately, there are ways to improve both sides of the equation.
In the case of the "back of the house," event planners should order food as thoughtfully as possible—in consultation with an experienced events production team. Along with being less wasteful, this practice can also reduce your food budget. When the event ends, the team should audit how much food was left over, capturing data to help them plan more accurately for future events. To solve food waste at the "front of the house," event planners can consider offering "to-go" boxes (made from recyclable materials) to attendees while following local regulations.
Additionally, your event's menu is an opportunity to showcase local, sustainable cuisine. If possible, choose a food vendor who can provide meals made from local ingredients. Onsite, you can provide access to information about the meal's origin on digital signage or within the event app. This showcases your company's commitment to sustainability while giving your attendees a unique culinary experience. Finally, should local regulations allow, consider donating extra food to local nonprofits and food banks.
4. Sweat the Small Stuff
Every event organizer knows that a great event experience is formed by thousands of small decisions made over a period of months. The same is true for sustainability: each decision is an opportunity to be more eco-friendly and support your company's goals.
These opportunities include aspects of the event we might otherwise take for granted, like lighting, signage, event giveaways, and badges. For example, organizers can work with their event production company to ensure that, wherever possible, LED lights are used to lessen the energy impact of the event. Your production partner can also create digital signage to assist with way-finding, using screens that won't be disposed of, post-event. Giveaways should be limited to objects that would be helpful onsite, like a reusable water bottle attendees can refill at water stations. Event organizers can even donate to a local sustainability organization instead of offering gifts.
Even the ubiquitous badge can be an opportunity to make an eco-friendly choice. For instance, if you're gathering in a city by the ocean, consider making the event badge water soluble so it will dissolve, rather than float, should it end up in the sea.
Showcase Your Event's Sustainability
Today, 84% of global consumers say sustainability is important when making purchase decisions—and your event is the perfect arena to share your commitment to being green. Remember to call out your sustainability efforts in your event apps, digital signage, and content. Help attendees feel good about their participation, and invite them to continue using sustainable practices in their daily lives. You might even consider a special "green" hashtag so attendees can tag their sustainable activities at the event—and beyond.
Stagedge strives to support our clients' corporate social responsibility and sustainability initiatives by keeping Earth's resources in mind as we plan events. To recognize our efforts, Stagedge was recently awarded a Bronze sustainability rating by EcoVadis, a trusted provider of sustainability assessments globally. Learn more about how Stagedge creates engaging and eco-friendly events by checking out one of our case studies.