Expectations for hybrid, virtual, and in-person events have gone way up, and a plethora of different technologies and platforms are available to help you provide the best possible experience for your attendees. But choosing the right technology can be confusing. In this post, we'll break down four event platforms to help you decide the best one for your event.
1. Brightcove: a versatile solution for events and video
You may already be familiar with Brightcove's video hosting platform, but the company also offers a robust virtual event system that allows for a wide range of customization options. In fact, in addition to video hosting and event platforms, you can use Brightcove for training, live streaming, and marketing. Brightcove's platform integrates with third-party software you may already be using through its extensive network of plugins. You can easily add a chat feature, Twitter feeds, and Q&As, and there's even an option to integrate single sign-on (SSO). This feature allows participants to log in through a previously established set of credentials, like work email, personal email, or social media accounts.

Since Brightcove's reporting capabilities are limited to video views rather than attendee analytics and journey capture, this platform is best for events that don't need robust attendee data—graduations, fundraisers, and townhalls.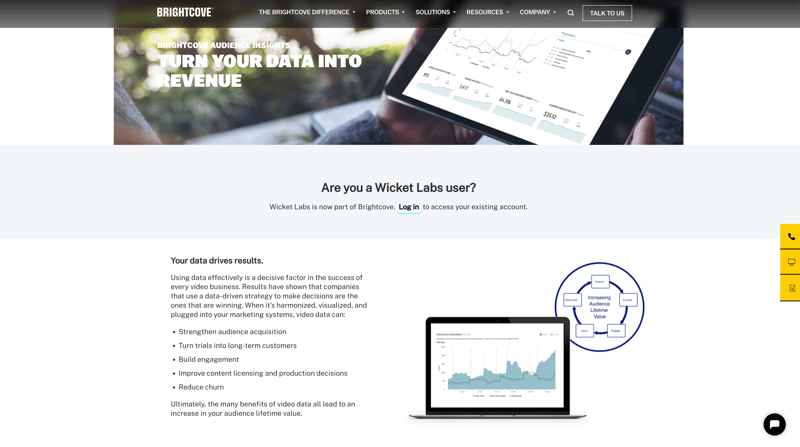 2. CVENT: the behemoth of event platforms
Cvent is a full-service, enterprise-level event management system that not only provides day-of-event offerings, but also extends to hotel room bookings, food preferences—such as dietary choices and allergies—and multi-day schedules and sign-ups. The platform is mobile-friendly and even sends real-time alerts and schedule changes to participants. Many events, however, might not have the need—or budget—for a system this robust. Companies utilizing Cvent are up-charged for many of the add-ons, including white-labeling the software. And while the Cvent platform can be highly customized, using the software typically involves a significant learning curve for non-experts.

Cvent's myriad offerings and extras make it ideal for large-scale, multi-day events with generous budgets—conferences, product launches, and other external-facing events.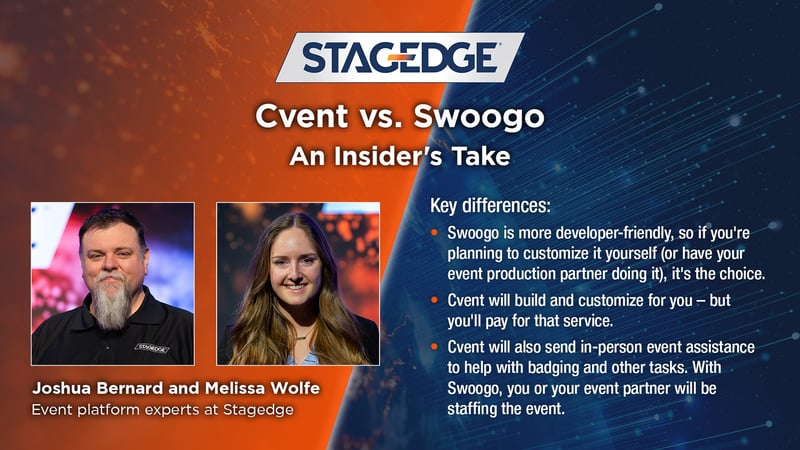 3. Swoogo: a user-friendly solution with detailed Analytics
Swoogo is another robust platform that allows businesses to customize the look and feel of their public-facing event portal—but in contrast with Cvent, it also presents the options in an easy-to-use graphical user interface (GUI), minimizing the need for HTML and CSS knowledge. Just like Cvent, though, mimicking your exact website requires an experienced event consultant to help with coding. The platform can handle complicated agendas with mobile-friendly widgets and schedules that can be customized for individual attendees and device types. As a result, per-user data and metrics are available in real-time, tracking the user experience from invite to exit surveys. Swoogo also offers an event app, and attendees can pay for registrations and extras online through 12+ payment gateways available in the software.
Swoogo's highly customizable, drag-and-drop makes it the perfect platform for complicated events involving individualized itinerary planning.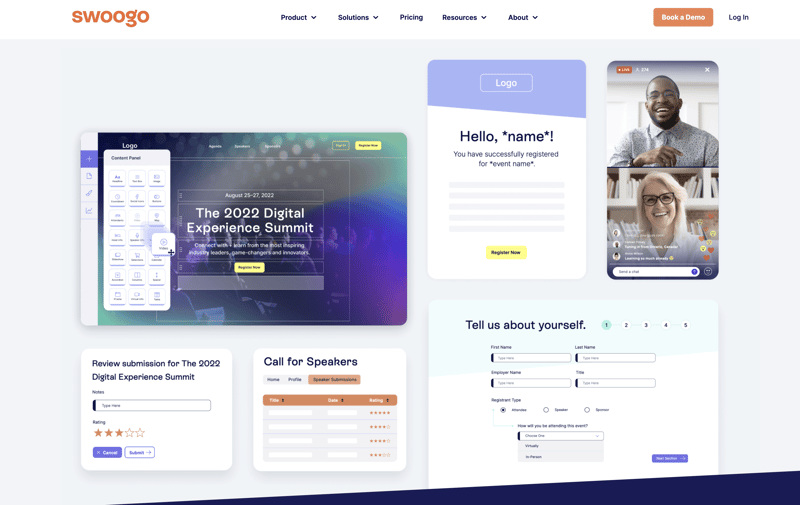 4. Sharepoint: an option to utilize existing software
Since many businesses already pay for some form of Microsoft software, SharePoint allows companies to leverage a platform they're probably already using. As a bonus, if your organization has an existing SharePoint implementation, your cybersecurity team has already given it the green light for internal use—and the access control system, whether Active Directory or another user and permissions manager, has already been established. While many users don't consider SharePoint an event management system, it can handle live streaming, file sharing, and version control, while integrating with other platforms for event extras.
Since allowing public access to your business's information could potentially put company data at risk, the best events to host on SharePoint are internal trainings and sales kick-offs.
Global options for the user experience
Regardless of the event platform you choose, there are three options for implementation that an experienced event planning expert can help put into effect. These are standard across all event systems, because the consultant is doing the work—not the platform.
In-Page Experience: An in-page experience allows you to host your video content on your own website while still leveraging a world-class video platform and delivery network.
Consultant-Hosted: Use a custom domain or a subdomain of your own website to point to a platform. To the user, it's a seamless experience using your branding and logo, but the magic happens on the consultant-managed platform.
Self-Hosted: The highest implementation tier includes a fully customized website branded for your company, with added features like registration, polling, live chat, and other custom integrations. This is ideal for organizations with an existing tech stack they'd like to use.
Avoid stress and headaches by working with a trusted partner
The best way to get started is to work with an event production partner to help you figure out the best delivery platform. They can perform a tech stack and event-needs audit, incorporating IT, communications, marketing, and other teams across the business. They then use this data to help you either supplement software you already own or choose a system that fits your specific needs. Check out Stagedge's event management offerings to learn more and to book an audit.