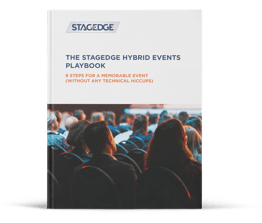 Sound familiar? Everything's going according to plan: you've broken records with registration, the venue is perfect, and your in-person and remote attendees are ready and waiting for the keynote speaker to begin their speech. Then, suddenly, you lose signal. The sound cuts out. For nearly a minute, your attendees wait in confusion and frustration as your team scrambles to find the source of this unexpected dead air. If this is your worst nightmare, you aren't alone.
With both live and virtual components, hybrid events present a whole new world of technical and logistical challenges to juggle. But no matter how you feel about it, industry experts believe that hybrid programming is here to stay. But, how can you pull off a must-see event without tearing your hair out over technical snafus?
Download the guidebook for the full read including:
Lessons learned from decades of experience facilitating impactful events to help organizers adapt to our new hybrid world.
Exclusive mini-case studies.
Guidance on working with a production partner to streamline your event planning process.