When hosting a multi-day conference, event planners know that the venue sets the tone for everything else—it's at the heart of creating an unforgettable attendee experience. But deciding on a location and facility can feel overwhelming, especially without an experienced partner to guide the way. Not sure where to start? Fear not. We've ranked our top five venues from around the country, looking at factors like event size, budget, and entertainment options.
1. Gaylord Texan Resort & Convention Center
Located 20 minutes from downtown Dallas, the Gaylord Texan has everything you and your attendees will need onsite—so there's no need to go anywhere else. Amenities at the 10,000-person capacity venue include an abundance of meeting spaces, expansive ballrooms, an exhibition hall, and smaller rooms for breakout sessions. Best of all, attendees can stay at the resort for extended events, taking advantage of the combined bar and nightclub next door for entertainment needs. The Gaylord Texan is non-union, which could mean less cost for staffing, and is an Encore property for rigging and internet requirements.
At a glance:
Best for large events, up to 10,000 attendees
All-inclusive, no need to go off-site for anything
Lower staffing fees compared to other venues in large cities
2. ARIA Resort & Casino
Enjoy all the benefits of Las Vegas at your next 2,000-person event. While ARIA boasts upscale large meeting rooms and an endless amount of extracurriculars for attendees, the venue also is one of the top locations for technology. Need fiber optics, camera connections, and riggings? ARIA makes it easy with tie lines that can route to just about anywhere in the hotel. ARIA is one of the few venues today designed with AV infrastructure in mind. The staff is incredibly accommodating and knowledgeable about event production, and they genuinely make you feel your event is their priority. ARIA is also an Encore property.
At a glance:
Best for medium-sized events, up to 2,000 attendees
Las Vegas means a multitude of fabulous entertainment options
One of the best venues for A/V infrastructure
3. Gaylord Opryland Resort & Convention Center
Situated in Nashville, TN, the Gaylord Opryland is an ideal event location for up to 2,000 attendees. The resort offers numerous hotel rooms, large ballrooms, and a surplus of meeting space. The entertainment opportunities in Nashville make it easy to bring in house bands of any style, and the proximity to downtown allows you to send attendees to various locations for off-site activities. Best of all, costs in Nashville are much lower than in top-tier destinations like Las Vegas or Los Angeles.
At a glance:
Best for medium-sized events, up to 2,000 attendees
Nashville brings easy access to top-notch music acts
More budget-friendly than bigger cities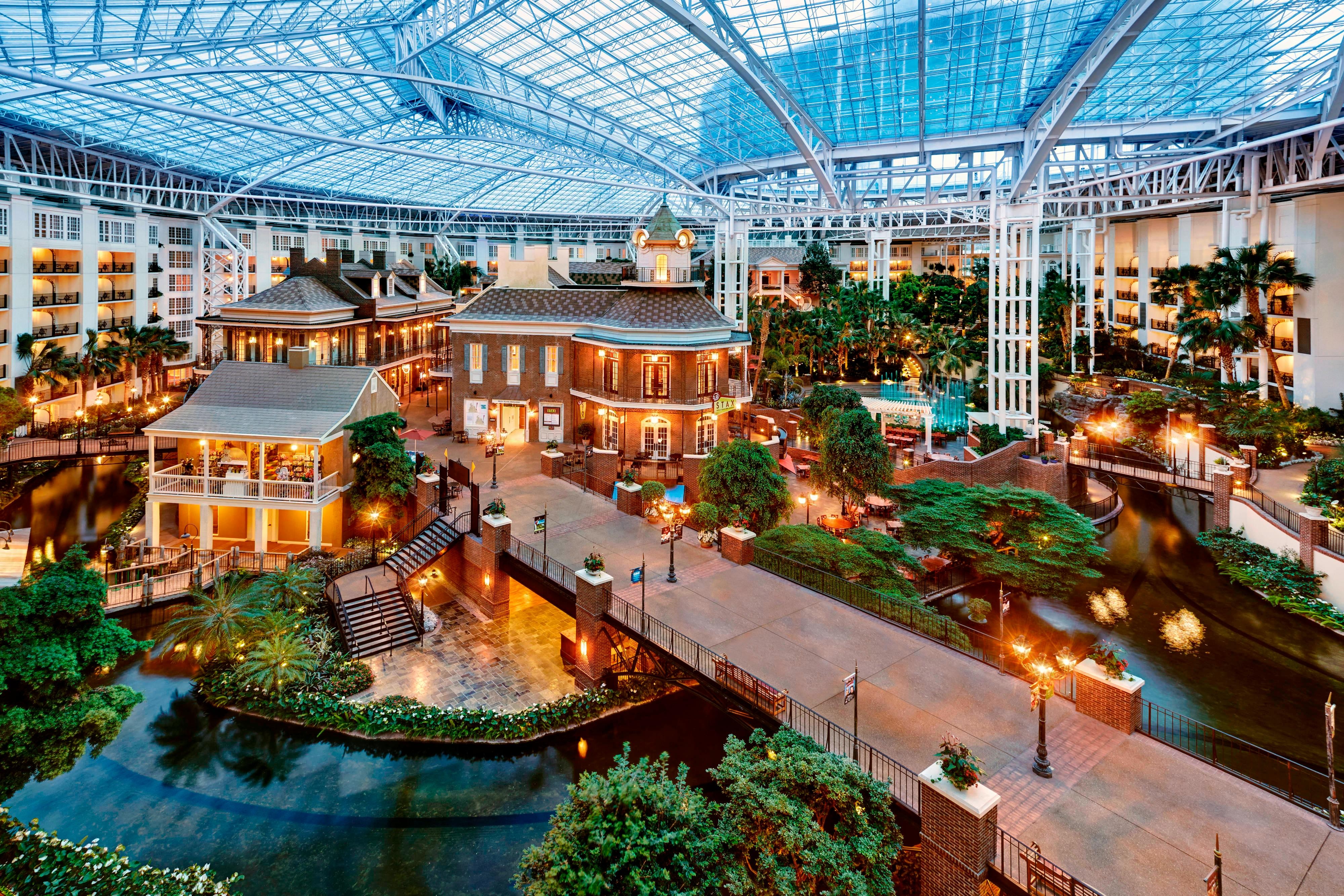 4. Boston Convention and Exhibition Center (BCEC)
Want to stay on the East Coast? Then the BCEC is the choice for you. Only 15 minutes from the airport, the exhibition center has an enormous ballroom that seats 2,500 people and features numerous rigging points for easy connections. Multiple exhibition halls and breakout rooms allow up to 50 simultaneous breakout sessions. The Westin Waterfront and Omni Seaport are also attached to the convention center, meaning a 10,000-person conference could easily be managed across the three spaces. Attendees can choose from several off-site activities in Boston, including sporting events and shows.
The top-notch, experienced staff is union throughout. While union labor brings extra fees, BCEC is still far less expensive than paying for a venue in locations like Chicago, New York, or San Francisco. The BCEC is managed by the Massachusetts Convention Center Authority (MCCA), a state agency. The hotels, however, are private and not managed by the MCCA.
At a glance:
With two attached hotels, this venue flexes for conferences of various sizes (2,000 to 10,000 attendees)
Great choice for East-coast conferences, close to airport and downtown Boston
Union labor, but less expensive than other large cities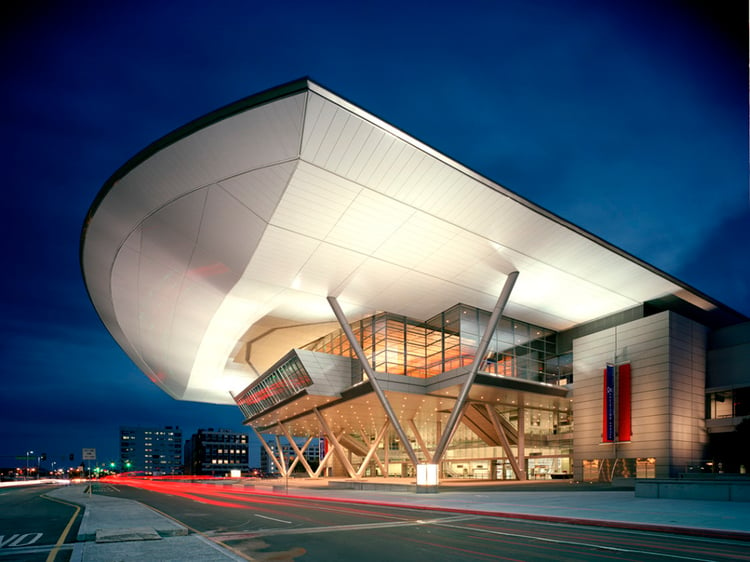 5. JW Marriott/Ritz, Orlando Grande Lakes
While many event planners consider Disney an ideal event location, the theme park's properties can be challenging due to expenses and rules regarding events. If Orlando's where you've got to be, then the JW/Ritz is your upscale destination for your 1–2,000 attendee event. The JW and Ritz are two different hotels on the same property right off International Drive, avoiding all the Disney traffic. The JW/Ritz option keeps your attendees from getting lost in the sea of larger conventions, giving your conference that important, center-stage feeling. However, the proximity to Disney means fun at the resort is only a shuttle ride away. There's also a massive golf course on the property for a day of 18 holes after your SKO opening session. Load-in is easy for your team, and attendees will appreciate the ease of travel to and from the airport.
At a glance:
Best for small or medium-sized events, up to 2,000 attendees
Close proximity to world-class golf and the entertainment options of Disney World
Provides a more customized experience than the bigger Disney properties

Be Memorable for the Right Reasons
Picking a venue is a pressure-filled act—and if you choose poorly, your event will be memorable for all the wrong reasons. If the venue doesn't have enough space, if it's not convenient to the airport, or if the entertainment is lackluster, attendees will remember those issues more than the event itself. If you discover that the venue can't accommodate your AV needs or accommodate special requests as they pop up, you're on the hook, financially.
Working with an event-planning partner who has deep experience with hundreds of different venues—and knows how to choose event spaces and which questions to ask—can result in major savings, from both a time and money perspective. And this is where Stagedge shines. We reduce the stress regarding venue selection so you can focus on staging the event your attendees will never forget—for all the right reasons.
Want to learn more about how Stagedge can help you choose the location for your next event? Visit www.stagedge.com to learn more.