As the event-planning industry starts to emerge from the shadow of the pandemic, one thing is for sure: there is no going back to the way things were. And that's a good thing. A bevy of new technologies, along with new best practices learned in the wake of serving both in-person and at-home audiences, offers event planners a world of new opportunity—if they know how to access it.
In part one of this blog series, we looked at the new technologies that are now available and why bigger budgets are needed in order to serve multiple audiences. In part two, we're exploring how to use tech in a meaningful way and how to start planning for your upcoming event.


Tech Needs To Be Used Meaningfully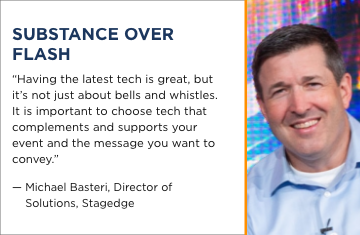 From VR headsets to branded apps, there are an array of new tech options to explore for your next event. Whether you're looking at ways to enhance an in-person event or you want to create a brand-new user experience in the metaverse, the worlds of augmented reality (AR), virtual reality (VR), and extended reality (XR) offer a world of choice that can also feel overwhelming.
So how do you choose the right tech for your event in a way that comes across as intentional and meaningful? Here are four steps to follow to ensure that your tech is a vehicle to convey your message—and not a distraction.
1. Find your purpose
What is the purpose of your event? Perhaps you are relaying information to stakeholders at an annual meeting, or maybe you're announcing and showcasing a new product. What actions do you want your audience to take at the end of the event? Identifying the purpose and goals of your event is the very first step and will help you begin crafting the message in step two.
2. Craft the message
Once you have the goal established, it's time to think about the story you can tell to achieve that goal. What new information should your audience be walking away with? And how will that information be relayed? Ultimately, audiences crave a narrative, stories, and entertainment. They don't want to fall asleep reading PowerPoint slides. The story you decide to tell will then help dictate the tech you choose—not the other way around.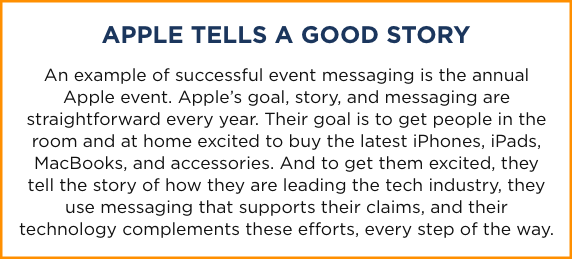 3. Layer in tech to tell the story
Once you've developed your goals and messaging, you can finally start to layer in tech to help tell your story. We like to think of choosing tech as similar to deciding what to wear to an event. You pick an outfit based on the type of event you're attending; you don't choose your outfit and then look for an event.
Are you launching a new product? You could weave instances of your product throughout the event, giving participants hands-on opportunities to test and try. Is your CEO kicking off a conference with a keynote? Consider enhancing their speech with an augmented reality (AR) experience that delights the audience and positions your company as forward-thinking and fun.
4. Choose the physical venue
Similar to choosing the tech too early in the planning process, picking a venue first can limit your story—while wasting budget. What if you spent money on a venue only to realize, later on, that local watch parties would be much more intimate and efficient than the giant event space you've paid for? The good news is that if you've carefully followed steps one, two, and three, the proper venue will likely have revealed itself along the way—making it easy to narrow down the decision in step four.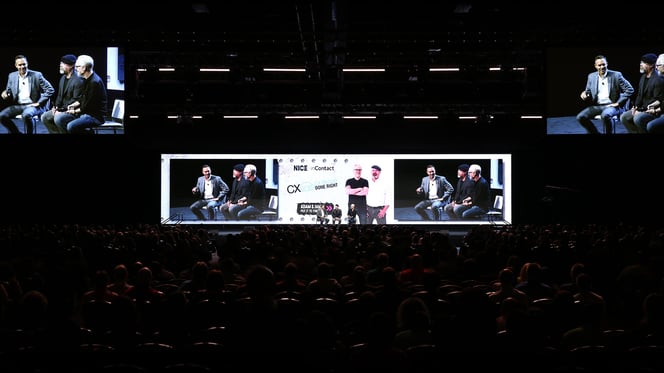 Start Planning Sooner

Another important lesson learned in the wake of the pandemic is understanding that the more time you give to planning an event, the better the outcome. With Covid's rapidly changing health guidelines, some event leaders felt pushed into a responsive mentality. But the leaders who had given more runway to their event-planning and, as such, had multiple or flexible venue options available, could provide their audiences with engaging events—whether at home or in-person.
This trend will continue, post-pandemic. As we mentioned in part one of this blog series, there are a limited number of top-tier production teams available to bring your event to life, which means dates are being booked far in advance. The event space is booming and will only continue to grow over the next decade, meaning you should expect to work on a timeline of 12-24 months and beyond. The good news about earlier planning? Committing to events and locking dates in sooner (with multiple date options, just to be safe) will free event planners and production partners to create deeper, more meaningful content while having time to leverage the new technology more thoughtfully.

The Right Team Matters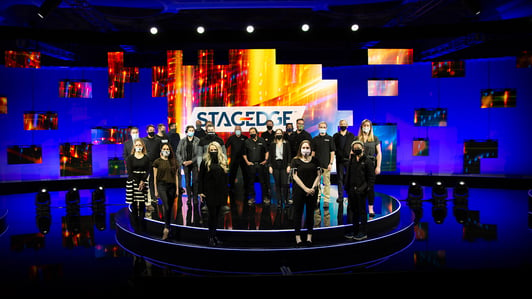 As new technology continues to emerge, audiences are eager to experience events in a fresh, exciting manner while having the flexibility to attend in a variety of ways. While hosting an event that delights multiple audiences (in multiple locations) can feel intimidating, it's very doable—but it takes careful planning, a deep understanding of what you're trying to accomplish and how tech can help—along with the right team. With decades of experience and a team that has deep experience with new technologies, Stagedge is the natural choice to help you produce an event that will take your brand to the next level.
Contact us to get the conversation started.